Description
Be the Brave Slayer of dragons with these Fantastic Printed Fantasy Medieval Dragon Leggings. The Leggings feature a fierce Dragon and a brave Princess. In stunning vibrant colour these leggings will look amazing in the gym or out and about. With leggings like these, throw quiet and shy away. Be powerful as a princess and fierce as a Dragon.
A Princess is Fending off a fire breathing Dragon on these epic leggings. Dragons are epic Creatures of Folklore with Fire and fangs to match any opponent. A Dragon is the epitome of power, tougher than all lizards with deadly fangs and razor sharp claws. Breathing fire and brimstone makes dragons even more powerful. Fighting them is a powerful princess, just like you could be. So get out your sword and get ready to slay the town with your new epic leggings.
Features
•Sexy leggings with dragon print in vibrant warm colors
•It is undoubtedly an ideal and epic outfit for gym or fashion wear
•Sleek fit leggings with comfortable elastic waist make these leggings comfortable and practical.
Includes Leggings only, no Shoes or Tops included.
Comes in One Size Only (see Below, Roughly L, Size 12), We hope to expand our range of leggings in the future.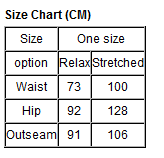 We are based out of Canberra, Australia and all items are shipped from our Canberra warehouse straight to you as soon as possible. (often the same day!) Local Delivery is available for free for Canberra and the surrounding areas. so what are you waiting for get your Dragon Slayer Leggings Today!
All prices are in Australian Dollars (AUD)
We have both after pay and paypal available as payment options. For safe and secure payments.
For information on our sales and shipping policies please follow the link below.
Be sure to follow us on facebook www.facebook.com/swordsmagic
or check us out on instagram www.instagram.com/swordsmagicanddragons