Description
This epic Red Nail and chain corset is suitable for slaying it out on the town or at home. be the envy of everyone in the club with this stylish and sexy wardrobe item. With Steampunk styling and striking colour this will look epic wherever you go.
Be a Steampunk Legend in this Corset. This will be a great asset to any wardrobe. The Red nail and chain corset is suitable for Larp, going out on the town or a quiet night in. You will certainly be the talk of the town with this outfit.
This is the must have item for you. This item is designed with high quality polyester (90%) with 10% quality spandex. It is decorated with chains, lace and nails. This item is custom made can cannot be purchased in normal stores.
please check the size chart below before purchase.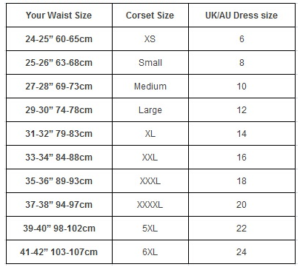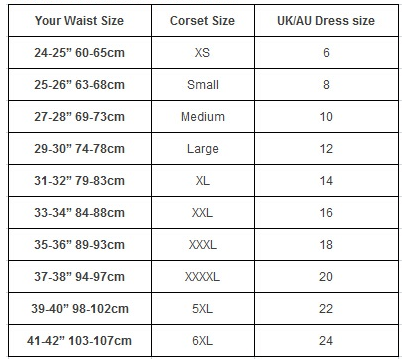 Please Measure Your Waist Size (3 CM above the Belly Button) if your actual Waist is between Two Sizes please Choose the smaller one.
Pay attention when placing the Order if your bust cup is above C. Then waist may fit but the bust may be tight. In this case we recommend you to use the under bust style corset as these may be more suitable.
We are based out of Canberra, Australia and all items are shipped from our Canberra warehouse straight to you as soon as possible. (often the same day!) Local Delivery is available for free for Canberra and the surrounding areas. so what are you waiting for get your Red Nail and chain corset Today!
All prices are in Australian Dollars (AUD)
We have both after pay and paypal available as payment options. For safe and secure payments.
For information on our sales and shipping policies please follow the link below.
Be sure to follow us on facebook www.facebook.com/swordsmagic
or check us out on instagram www.instagram.com/swordsmagicanddragons